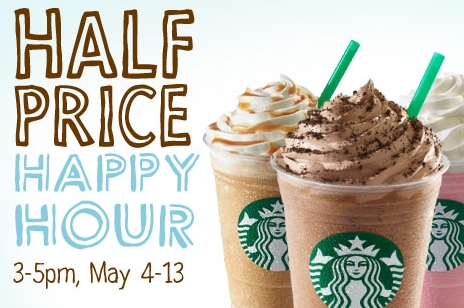 I am all about coffee!  My entire kitchen is coffee themed…I am dedicated!  Obviously, I just have to share this penny pincher tip with you.  We all know coffee can get pricey…so enjoy this sweet offer from Starbuck's while it lasts!  They are offering half priced frappuccino's  May 4-13 from 3-5 PM.  P.S.  They have a new Mocha Cookie Crumble Frappuccino!!  The picture looks like it has chocolate whip on it…yum!  I was seriously just thinking the other day (as I sipped my java chip frappuccino) that I wished they had one with cookies.  Thank you, Jesus!  =)
I remember the first time I ordered from a Starbuck's.  I was so nervous because the menu seemed to go on forever and what do all those words and terms mean??  Here are some tips to help you sound like you know what you are doing.
Did you know?
Non-fat:

You can order pretty much all of Starbuck's drinks as "non-fat" and they use non-fat skim milk.  This will almost halve your calories and take away the fat.  I cannot tell a difference and always order my coffee drinks non-fat (you can also specify 1% or 2% milk if you prefer that).  Note: Non-fat versions do not include whipped cream…you have to say "with whip" to add this…worth the calories in my opinion.

Sugar Free:

You can also order many of Starbuck's drinks "sugar free" and sugar free syrup is used.

Skinny:

  Non-fat skim milk and sugar free syrup are used.  Guilt free!

Decaf:

You can order most drinks without the caffeine.  I thought my pregnancy and breastfeeding days were going to make me miss my favorite Pumpkin Spiced latte and Gingerbread latte which are only offered seasonally.  I was wrong…for once…thankfully!  ;P

Tall:

Small size (12 oz)

Grande:

Medium size (16 oz)

Venti:

Large size (20 oz hot or 24 oz cold)

Kid's Temp

: Around 140 degrees.  I have a "weak" mouth.  I hate waiting -forever- for my coffee to cool off so I can enjoy it.  I now order all of my hot drinks at kids temp so I can sip away immediately without scalding my mouth.
There are obviously many more coffee terms but these are some basics I've learned over the years to get you started.  Enjoy your Happy Hour!  I can't wait to try my grande decaf non-fat mocha cookie crumble frappuccino with whip!
P.S.  My all time favorite Starbuck's Drink is: Grande decaf non-fat kids temp gingerbread latte with whip (that is a mouth full…a yummy one!).  What's yours?